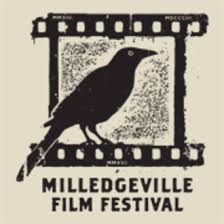 The Milledgeville Film Festival nominated Hunter for Best Actor for his performance as Evan in the film "Narcissist" opposite Brionne Davis.
"It was completely unexpected to be nominated for an acting award by the Milledgeville Film Festival and I gotta tell you – it feels great. Thank you so much for this encouragement and I wish I could've been able to attend the festival in person. Seeing that the festival's logo included a crow is even more cool since I've felt a close kinship with crows. It's like my spirit animal was looking out for me somehow!" said Hunter about the nomination.
"Narcissist" was directed by Eric Casaccio and has screened at more than 60 film festivals around the world. The film won the "Best Drama" award at the Phoenix Comic-Con Film Festival as well as Best LGBTQ Film at Toronto Independent Film Festival, Reelheart International Film Festival and All Things Hollywood Film Festival and audience awards for best short film at both Boston LGBT Film Festival and Q Cinema Ft. Worth.
It will be available streaming on Amazon Video Direct later this year.